Every Child Matters
SAFEGUARDING AT NWLJDS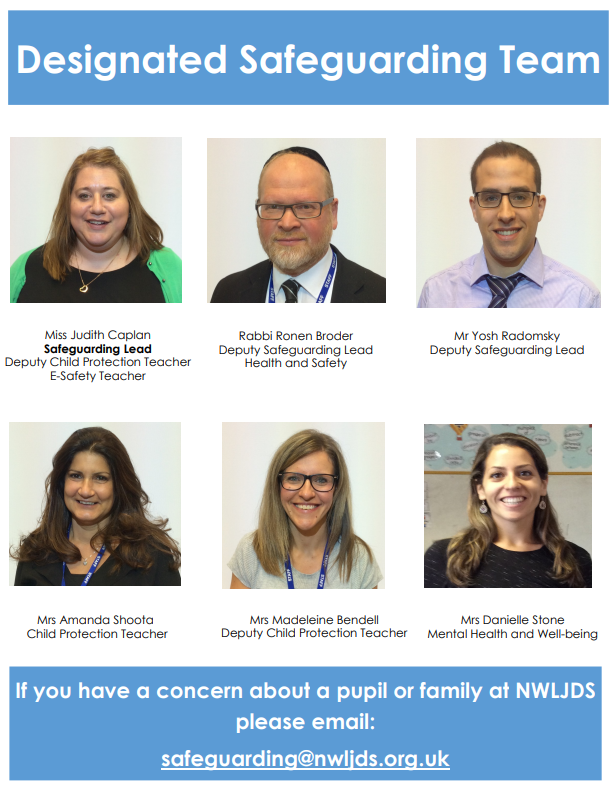 Child Protection and Safeguarding Policy
Safeguarding and Child Protection are the highest priority for Staff and Governors who work together to ensure high quality, exemplary practice at North West London Jewish Day School.
What is safeguarding?
It is all the policies and actions we put in place to keep our school a safe place for all. 
For urgent Child Protection matters, outside of school hours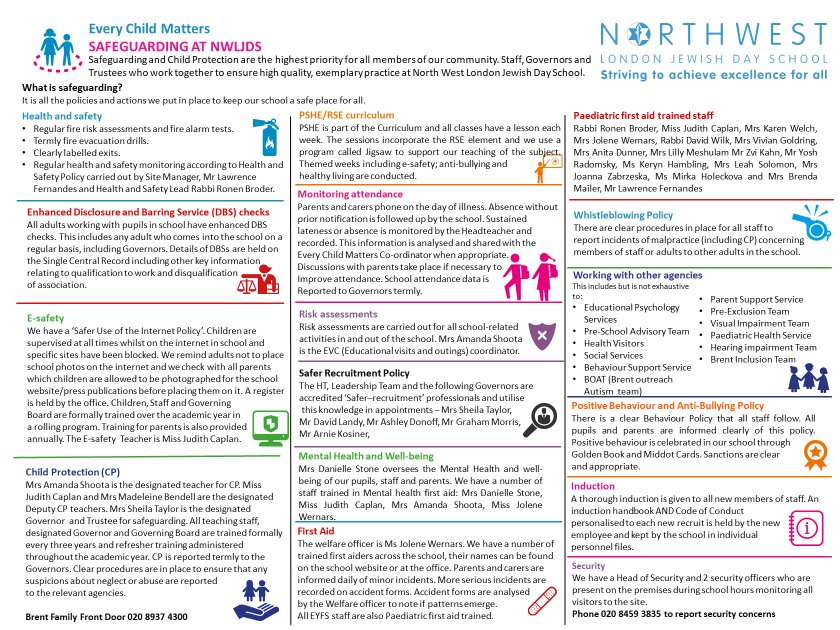 Staff Training
Paediatric First Aid – Jolene Wernars (Welfare Officer), Rabbi Ronen Broder, Brenda Mailer, Dianne Horwitz, Vivian Goldring, David Wilk, Lawrence Fernandes, Rachel Kupperman, Mrs Keryn Miller, Leah Solomon, Karen Welch, Yosh Radomsky, Joanna Zabrzeska, Lilly Meshulam, Anita Dunner, Romy Taub, Zvi Kahn, Adina Elkouby, Melissa Teff, Shirley Choyen, Lisa Retnam, Mirka Holeckova.
Safer Recruitment Staff–  Madeleine Bendell, Judith Caplan, Amanda Shoota, Ronen Broder, Naomi Landy, Brenda Mailer, Karen Welch
Safer Recruitment Governors –  Sheila Taylor, David Landy, Graham Morris, Ashley Donoff, Martin Kerem
Multi-agency Training – Madeleine Bendell, Amanda Shoota, Judith Caplan
Child Protection Training Level 1 – Judith Caplan, Amanda Shoota
Child Protection Training Level 2 –  Madeleine Bendell, Amanda Shoota, Judith Caplan
Child Protection Training Level  3– Amanda Shoota,  Judith Caplan, Madeleine Bendell, Ashley Donoff
Prevent Training – Amanda Shoota, Judith Caplan
Recognising and responding to the Sexual Exploitation of children and young people training –  Amanda Shoota
Female Genital Mutilation – Amanda Shoota
Digital Communication and its Impact on Children and Young People – Amanda Shoota, Sylvester Saldanha, Camilla Kahn
Child Protection and Safeguarding policy signed by the Headteacher and the Chair of Governors